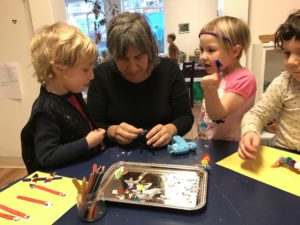 Our cooperative school offers an opportunity for you to share in your child's experience away from home and to help him or her take steps toward independence. Our adult members help our school by contributing their unique talents and sharing their interests. Through your classroom participation you can observe your child's interactions in the school setting, and then gather with parents and teachers to learn more about these experiences. We strive to keep families involved and connected with one another throughout the school year and beyond.
Being a cooperative school helps create active engagement with children and parents while enabling us to keep fees as low as possible. All members of the co-op community are involved in the creation, development, and upkeep of school programs and initiatives.
Commitment includes:
Each family holds a job that keeps the school and community running smoothly.
A parent or caregiver from each family is expected to help in the classroom approximately two times per month.
KCP holds several fundraisers throughout the school year and every family is expected to participate in these events.